Time and Attendance software for small, medium and large-size enterprises
The latest Time-Minder time and attendance software from AMSTIME-MINDER. Version 8 automates the calculation of any award conditions, provides a selection of reporting options, prepares payroll import files and much, much more.
Time-Minder Software Features
Time-Minder Version 8 licences are available as an outright purchase or annual fee, with flexible numbers of supervisors and employees, so there are no unexpected charges or costs.
Detailed employee records include shifts, classifications, departments and any additional payroll information. TMV8 fully automates your payroll.
TMV8's automatic shift selection means time calculations are correct even if employees swap shifts.
Cost-centre timing allocates times automatically to different cost centres or jobs throughout the day.
Prints detailed time sheets for weekly verification.
Prints weekly payroll in detail and summary for your records.
Email reports directly from Time-Minder software.
TMV8's fully tailored shifts mean all times are calculated exactly as per your award or workplace agreement.
Easy to use! Can be tailored with your labels and headings.
TMV8 has many more features including password protection, audit trails, public holiday calendar and period total reporting.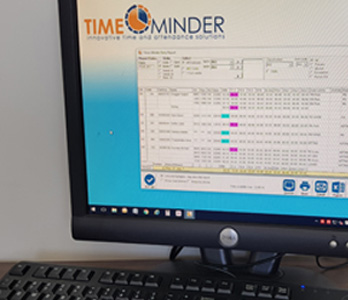 Click the links below for full-screen images
Edit Page